my travel activities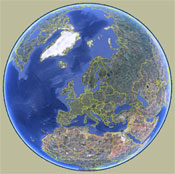 As long as I can remember, I have been interested in the big world outside Denmark. As a child, I could spend hours browsing in atlas and look at maps.
I was so lucky to have a cousin who lived in Sweden with her husband and their two children. As early as 12 years old, I spent holiday with them. I saw a completely different nature and heard another language. I found it fantastic exciting. I went there three summers in a row.
But my first real travel experience was actually in Denmark. Jeg var omkring 15 år. Vi var tre kammerater, der drog afsted fra Fyn til Karup, for at bo på campingplads ved Karup å.I was about 15 years old. We were three friends who went away for holiday, to stay at a campsite near Karup å (a stream in Jurland). One evening we sat by the bank. The sun was about to go down and colored the sky in the most beautiful red-orange hues, which was reflected in the river's surface. The birds song became more intense. The blackbird's trills were deeper. You could hear the mosquitoes. The scent of the flowers and grasses were stronger. The fish jumped and created rings that spread and mingled with one another. We sat quiet, with a beer, without saying anything to each other. It was one of the greatest travel experiences of my life. All senses were sharpened.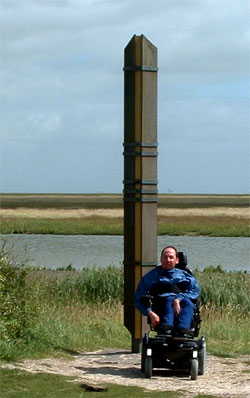 In front of a pole, measuring floods at Fanø.
For me, traveling is to sense, be open and see life. Not necessarily to travel far away. I believe that if you cannot experience and be excited about things in your own country or neighborhood, you can certainly not do that on travels far away.
I was often on summer holiday around Europe, for a week or two.
During the time I went in the upper secondary school (high school) I began to look for greater travel challenges.
In 1983 I went abroad with two friends for half a year to U.S.A. and Canada.
I year before, I bought an old Ford Transit for 5.000 Danish kroner and repaired it, so it was ready for the trip. We and the car, which was named 'the Brockmobile', sailed on the good ship 'Stefan Batory' from Rotterdam in Holland to Montreal.
Most of the time we slept in the car at rest areas or campsites.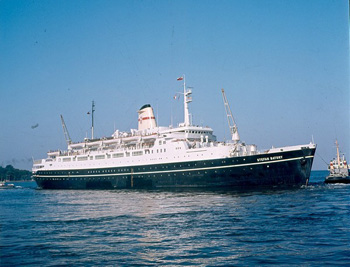 We sailed with Stefan Batory from Polish Ocean Lines.
A trip that taught me much about living close together, to cooperate and restrict ones needs.
The trip went through 3 Canadian provinces, 42 states in the U.S.A. and one short trip to Mexico. A total of 42.000 km.
I continued to travel around in Europe for small trips.
When I started to study Chinese, it was common to go abroad and study in China for a period - perhaps that was the actual reason that I chose to study Chinese.
First it was my intention to go for a three-month study in Beijing in summer 1989. But there were huge mass demonstrations in Beijing and many major Chinese cities. The Chinese regime unfortunately chose to crush the demonstrations brutally, by putting the military in action against demonstrators at Tiananmen Square. So I cancelled the study tour.
The ticket was changed to Thailand.
A three-month trip with backpack around major parts of the country.
It was the first time I had to try the challenge, to travel without the electrical wheelchair, and therefore be highly dependent on the helpers. I only used local transport as buses, trains, tuktuk, and boat. I had to find solutions to take bath or going to the toile, when that often a hole in the ground. A journey that taught me, that almost anything is possible if you use your imagination and willingness to compromise with old habits.
The year after, I went a year to Shanghai for studying. I managed to combine it with 3-4 month traveling around the country. It was a fantastic experience to be so long time in a foreign country and get the daily life to work properly. It was sometimes very difficult, because none and nothing was used to a wheelchair in China.
Since that, I went on a few more trips to Asia. Another three months of travel around China. Two months in Taiwan. And three months in the Philippines.
I had the great pleasure to work with a development project in Zimbabwe, which supported a disability organization for people with muscular dystrophy. In connection with this, I visited the organization and country two times.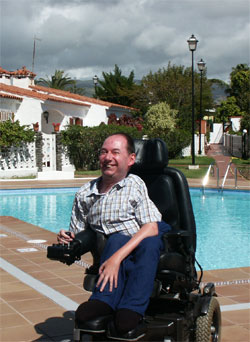 By the pool in Gran Canary.
It is interesting, that I not until 2006, went on my first charter vacation, which went to Gran Canary. It was exciting to try a new way of traveling.
In the summer of 2008, I packed the car and took off on a 6.000 kilometer long journey. A trip to Stockholm, Sweden through large forest areas up to the bottom of the Gulf of Bothnia to Finland to visit Santa Claus in Rovaniemi, crossing the Arctic Circle, drive on roads with reindeers, and up to the windy rock that forms the North Cape and see the midnight sun, further south along Norway's numerous beautiful fjords, through Telemark and see Germans heavy water factory from WWII and finally take the ferry back to Denmark.