Circus
I was in the period 1995 to 1999 together with Kulturforeningen Koronas (the Cultural Association of Koronas) Circus group. With a strong facial mimic, under painted clown masks, with timing and colorful costumes, we tried in a humorous way to show what circus also could be.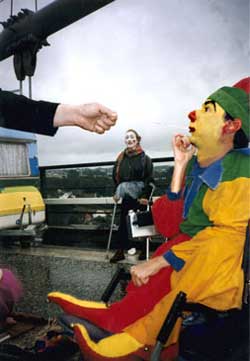 The fool conjures a clothes line, stored in the mouth.
Lillebæltsbroen 1995
We challenged the circus tradition, in which physical strength often has been a key element. In our show, we let the fool use his wheelchair as an integral part of the show, acrobats balance with their walking sticks and the strong man moving with a limp.
Many of the elements were traditional circus acts, like blowing fire, walk on broken glass and acrobats, but everything performed in a twisted manner, with humor and a surprising ending.
The Circus group appeared on different locations, including:
1998 in Aarhus Kulturnat (Aarhus Cultural Night)
1997 in Almagro, Spain, 'the 3rd International Congress and Festival of Theater by Disabled'.
1996 in Skagen at Skagen Festival.
1995 25th anniversary of Lillebæltsbroen.
Addition, several courses and conferences.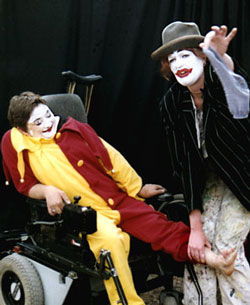 Inger and Agnete making ready to walk on broken glass..
Almagro, Spain in 1997.