slappendales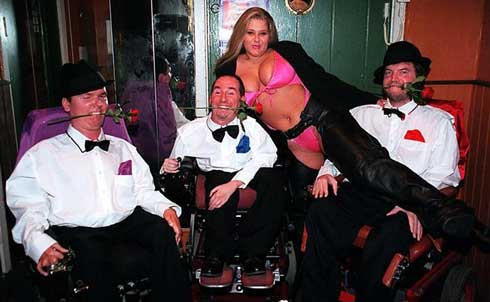 Slappendales on the Grøn Tour Forårsspeical 2000 (Green Tour Spring Special)- here in Odense.
From left: Gert Riis, Dan R. Brock, Tina Mishale and Torben Madsen.
Slappendales started originally as a provocative counterpart to the male stripper group Chippendales. Our first act was intended as a fun and surprising feature of Muskelsvindfonden's (the Danish Muscular Dystrophy Association's) annual national convention in 1994. Our mission was to change the general perception of disability and sexuality. At that time the members of Slappendales were: Dan R. Brock, Gert Riis, Klaus Bach and Torben Madsen.
Since then, we performed the show on Grøn Koncert (the Green Concert) in 1995 which caused much attention from various media. For us all, it was a great experience that we were able to put disability on the agenda.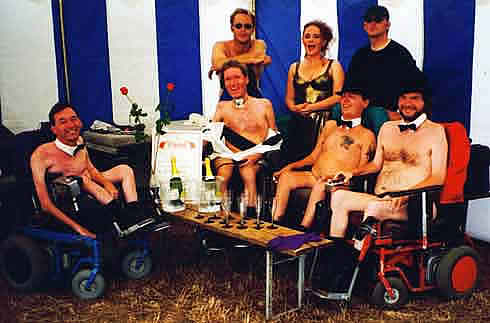 Slappendales backstage in the tent on the Green concert tour in 1995.
From left back row: Morten Tjerrild, Rie Brøndum and Svend-Erik Larsen.
From left front row: Dan R. Brock, Klaus Bach, Gert Riis and Torben Madsen.
After this tour Klaus chose to concentrate on other things.
The responses to our show have been diverse. Everything from great fascination of our choreography, to admiration of a different show and outrage at our straightforward style. The show has generated discussion both within our own circles, but as much outside.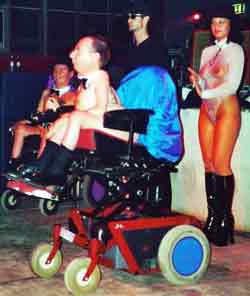 In 2000 Slappendales performed with Kira Eggers at Base Camp.
Over the years, our show has undergone various changes but the main element has always been male stripping performed from electrical wheelchairs. It must be stressed very much that without the help of our assistants, there wouldn't have been any show.
We have been hired for various events around the country. We have been invited to a series of conferences on disability and sexuality organized by the Ministry of Social Affairs, cultural events, and for cultural activities.
In the spring 2000 we began a close working relationship with the stripper Kira Eggers and Tina Mishale.
We performed a hot, erotic and provocative strip show, where opposites was in contrast to each other. We have been incredibly happy to perform with Tina Mishale.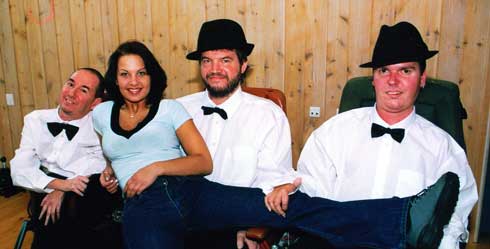 From left: Dan R. Brock, Kira Eggers, Torben Madsen and Gert Riis.
We are very aware that it provokes some people that we as people with muscular dystrophy are playing with the 'muscles' we do not have.
Our intention is to put people with disabilities right to a sex life on the agenda, therefore we also like to participate in discussion after the show.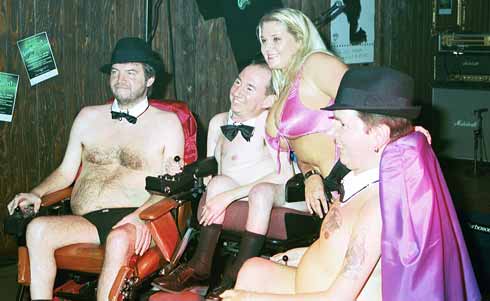 From left: Torben Madsen, Dan R, Brock, Tina Mishale and Gert Riis.


Written About Slappendales
A selection of numerous articles about Slappendales in 1995 and 2000.