my circus
In 1992 a good friend of mine got the brilliant idea that, to put more focus on disabled people and attitudes towards the disabled in connection with Grøn Koncert (the Green Concerts).
new PR-event and a street theater group were born.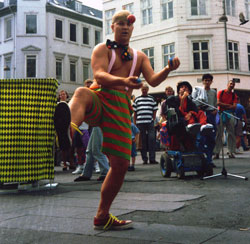 The busker Pino is juggling in front of
the ringmaster and the cages with the monsters.
As in old market tradition, the troupe traveled around to the same towns as the Green Concert caravan and exhibited the disabled as monsters, freaks and beasts. All were securely locked behind solid steel bars in cages.
It was a grotesque and humorous commentary on the uncertainty and fear against people with disabilities, many of us had felt.
There was great interest from local media. And many by-passers got a surprise at the bizarre sight. Some rushed away, while other stopped and had a talk with the perfomers after the show.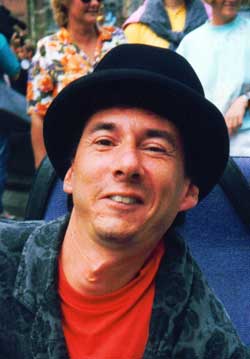 cast:
Dan R. Brock
Gert Riis
Tina Kirkegaard
Jesper Hansen
The busker Pino