a life of quality
A speech about living life to its full and give it quality.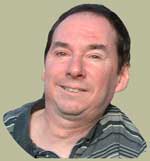 I will, through personal experiences, stories and adventures tell about things that has given substance, joy and quality to my life.
I will describe how it was to grow up with muscular dystrophy. Om drengeårene, teenageårene og voksenlivet.About the child and teenage years and adulthood.
I will talk about awareness of having a disability, how it is to be dependent on others' help and to learn from life.
I will tell about fun and serious situations from my many trip, from various performances and from my involvement in different associations, especially in Muskelsvindfonden (the Danish Muscular Dystrophy Association).
I will give my opinions on what is important to grow, to live a life with lots of substance and how important it is to take responsibility for one's own actions and decisions.
The speech can of course be adapted to individual wishes.
If you want more information, have questions regarding the booking or just want to know what is possible, please contact me at the address below and let us talk about it.
Said about 'A life of quality'
The following statement comes from the evaluation after a seminar organized by Muskelsvindfonden (the Danish Muscular Dystrophy Association) at Musholm Bugt Feriecenter in 2005. .
A truly positive and nice experience - Dan's sweet way to tell about his life, answer questions, has given us tremendous and done that, despite everything, we can see brighter on the future.
It was nice to hear that he lives a good life, living in his house and seeing the world.
Very pertinent and honest answers to questions.
Pleased to learn that you can get a good life.
Good to hear how his parents have been.
A delightful, vibrant and talented personality, who was an inspiration / catalyst to get the discussion started.
It gave us hope for our child - told with warmth and humor.
Really good, life-affirming and honest. Gave hope for the future, Dan was very optimistic. It was good to hear about his "un-fussing" parents. Should have lasted longer and have been there all evening.
photo gallery