Traveling with wheelchair
Is primarily a speech about traveling. But it is also a speech on the possibilities of travel with a wheelchair as the main baggage.
I will, through personal experiences tell of the reflections and preparations before going on a trip. I will give good advice about traveling.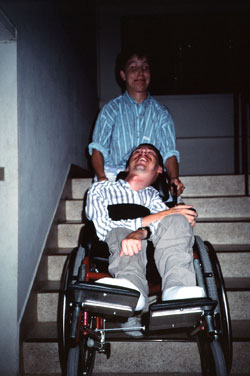 Stairs at a hostel in Bangkok must be
climbed every day.
The speech can of course be tailored to individual needs, so that the emphasis may be on the aspects that you wish.
The speech is intended for those who would like to try to travel and for those who just wonder what is possible.
Given the emphasis on my own experience, there will be ample opportunity to hear many funny and useful stories from different parts of the world.
We will be traveling widely, including Gran Canaries, Sweden, Finland, China, Thailand and Zimbabwe.
We will hear about different aspects of traveling, among others:
Where should the journey go to?
How can you travel by air with a wheelchair?
How can you use toilets and have a bath?
Do you hneed special insurances?
How do you make agreements with helpers?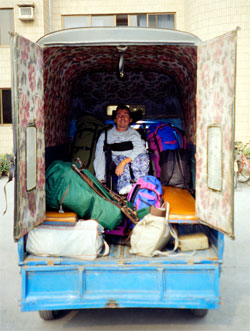 Cozy arranged taxi - a pick-up covered with wallpaper.

If you want more information, have questions regarding the booking or just want to know what is possible, please contact me at the address below and let us talk about it.
Said about 'traveling with wheelchair'
Evaluation after a Youth Camp held at Musholm Bugt Feriecenter in 2008.
Super cool! Really interesting and informative.
It was really good, the speech was informative and fun.
He was great.
Super cool - the man could sell sand in the Sahara.
Very well - he's a good speaker.
He was a super speaker, and peoples attention.
Good speech – a good storyteller.
Exciting and really fun.
Best speech!
Very exciting! And it was told in a very fun way.
Photo gallery